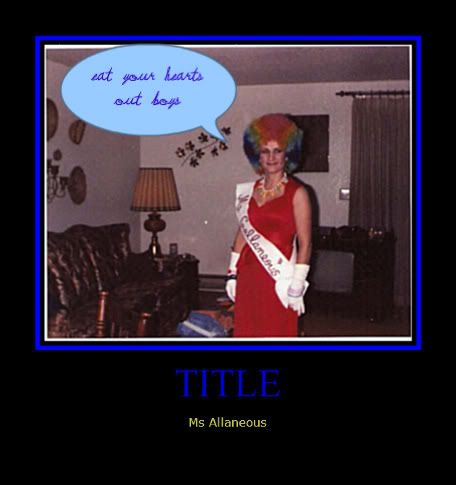 Cristie, my baby daughter was digging through old pictures and found this one of me, circa 1984.
It was Halloween night and Suz and I were going to meet some friends at the Sunshine Saloon for their annual adult costume party, a first for me. A few days earlier, someone had asked what kind of costume I was going to wear. I had no clue, but told them it would some miscellaneous creation, which put an idea in my head to be Ms Allaneous.
My sister Phyllis, (Lois) had given me that red dress, which was floor length, made from a fluid stretchy knit fabric quite popular in those days. It was also very form fitting, cut to give a girl the image of a very curvy body. In those days, I had the tiny waist and curvy hips but lacked anything "outstanding" in the bosom department. That was easily fixed by borrowing one of my Mom's D cup bras, sewing tucks in the band to fit snugly around my chest and filling those enormous cups with undies and socks and fiberfill. I pushed those fillers under and around my own boobs until I had a cleavage to die for, stretching that knit bodice to it's max, emphasizing my tiny waist and curvy hips. I was HOT! I looked in the mirror and decided that boobs that great needed a little nipple showing, which two perfectly placed cotton balls accomplished. Suz was laughing her butt off at body I had worked so hard to create.
Since I knew the whole point of the evening was to look as ridiculous as possible, I completed the costume with a multi colored, curly clown wig, a plastic necklace to match the wig, long white gloves, finished off with every colored bracelet I could beg, borrow or steal... which was six or eight. Next came the makeup, piled on as heavy and thick as I could muster, finished off with thick black false eyelashes and a painted-on black "beauty mark". I looked garish as hell and I loved it! Last came the Ms Allaneous banner and the spiked heels. The only thing missing was a tiara, which I couldn't find. Suz wore a wonderful clown costume shown in the picture below. Neither of us looked like ourselves..................mission accomplished.
Suz and I knew the Saloon would be packed that night, so we finished with our costumes and left for Boise around 8:00 PM, earlier than we would normally make out entrance. We laughed and joked all the way to town, high on the anticipation of the fun to come. And boy, howdy, did we have fun! Neither of us were much into drinking....it was the adult conversation, dancing, and meeting new people that we always looked forward to on our girls night out.
When we arrived, the party was going full swing. And, the costumes were amazing! We always liked to sit at the bar, closest to the entrance, so that we could see and hear everything going on from the best vantage point. In fact, we were there frequently so the bartenders always saved those first two bar stools for us. We took our seats, ordering the first of maybe two drinks for the night, waiting for whatever might happen. Only a few of our crowd of friends actually knew who we were which made it easy for the two of us to be as silly and outrageous as we liked. No one came into that bar without being greeted by us.........we'd sort of became the official greeters to all of the regulars and were always surrounded by a group of people, laughing, joking or dancing our legs off to the music of a very good band.
The room was dimly lit, as most bars are, hiding our imperfections most of the time. As the evening wore on, Suz leaned over to me and, giggling, said, "Dort, don't look now, but that guy over there with the cowboy hat is lusting over your body. He can't take his eyes off that cleavage you created for yourself." "Really", I said. "I guess I'll have to pour on a little charm, wit and personality and see what happens." Nonchalantly, I turned, looked him in the eye and mouthed a "Hi" and little wave. He seemed embarrassed and turned away.
You know, how sometimes you can just "feel" that someone wants something from you. Well, I just "knew" that cowboy was dying to get me out on the dance floor for one of those slow, hold-you -close, dances, except it wasn't me he was interested in, it was my chest he was longing to feel against his. Now, though they looked soft and cuddly under that soft, silky fabric, they were not...those size D wonders. All that stuffing had given them the feel of an overfilled basketball. I knew it and Suz knew it, but..........the cowboy didn't.
The band was Rockin' and Rollin' and I was dancing a lot. Every time some guy asked, and we walked past that cowboy, I could feel his eyes following me. Finally, they slowed down to a belly rubber song and Suz said, "I'll bet he asks you to dance on this one" as she went off to dance with a friend. Sure enough! As soon as she left, there he was. "Would you like to dance?"he asked. "I would love to." I said, as he held out his hand and led me to the floor. The first few steps of the dance were modest but it didn't take him long to tighten his arm around my waist and pull me in for the "feel". The look on his face was priceless as I looked up, innocently smiling into his face, just as Suz, who was dancing next to us, burst into hysterical laughter, bending to her knees. What could I do, but follow suit. Through bursts of uncontrollable giggling, I managed to tell him I needed to sit down, trying to apologize for my outrageous behaviour. He knew he'd been caught at his game and quickly left the bar for greener pastures.
Suz and I couldn't quit laughing and other women, who apparently had encountered this guy in other hangouts, were coming up and laughing with us. We heard comments like, "It's about time someone put that jerk in his place, he thinks he such a gift to women." and "You go, girl!"
Women can be such bitches when the need arises.
That was the first and last time I ever went somewhere incognito, and let it all hang out. We had a fabulous time at that Halloween party. And, I don't regret a minute of it. Thanks, Cristie for helping to bring that memory back. I'm hearing Suz's laughter again and enjoying every minute of it.
COME ON DORT, LET'S PARTY! (SUZ)